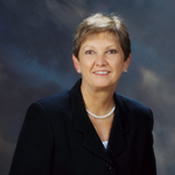 Pamela Ellis Deal has been engaged in the private practice of law in Clemson, South Carolina, since 1982, with most of her practice devoted to Family Law. She is included in the current edition of The Best Lawyers in America, in the Family Law section. She is licensed and admitted to practice in Florida, Georgia, and South Carolina and is a member of the Bar Association in each state.

Ms. Deal has been a regular speaker at continuing legal education seminars for many years sponsored by the South Carolina Bar, including mandatory judicial continuing education seminars. She also has been a speaker for many years at seminars sponsored by the South Carolina Trial Lawyers Association, and more recently the Pickens County Bar.

Preparatory and Legal Education:
■ Gulf Coast Community College, Panama City, Florida, 1968-69
■ Florida State University, Tallahassee, Florida, 1970
■ University of South Carolina, B.A. Cum Laude 1971
■ University of South Carolina, Master of Arts in Teaching 1972
■ University of Georgia, J. D. 1981
Bar Admissions:
■ Georgia Bar, 1981
■ South Carolina Bar, 1982
■ Florida Bar, 1982
■ Federal District Court
■ U.S. Fourth Circuit Court of Appeals
■ U.S. Supreme Court
Bar and Professional:
■ American Academy of Matrimonial Lawyers, Board Of Governors 2006-2008, Budget Committee Chair 2007, Chapter President, South Carolina 2003-2004, President Elect 2002-2003, Secretary 2001-2002.
■ American Bar Association
■ American Trial Lawyers Association
■ South Carolina Trial Lawyers Association
■ South Carolina Bar Association, Family Law Section
■ Florida Bar Association
■ Georgia Bar Association
■ Anderson County Bar Association
■ Pickens County Bar Association
■ Oconee County Bar Association
■ Business Law Instructor, Clemson University 1981-83
Distinctions:
■ Certified Family Court Mediator and Arbitrator
■ Editorial Board, Marital Litigation In South Carolina by Roy Stuckey
Community:
■ Clemson Area Chamber of Commerce, Past Chairman and recipient of the Catherine Smith Award
■ Clemson Calhoun Rotary Club, President 1995, various offices
■ First female Rotarian in the State of South Carolina
■ Leadership South Carolina 1989
■ Palmetto Leadership
■ Leadership Clemson
■ Clemson University Centennial Celebration, Community Chair
■ Pickens County United Way, Board of Directors and Clemson Chair 1994
■ Better Business Bureau of the Foothills, past Board of Directors.
■ Association of Women Professionals, member and past President
■ Professional Secretaries Assn., past business law instructor
Biography:
Born in Panama City, Florida, February 1, 1950. Married to Charles Deal, December 31, 1970. They have been practicing law together since 1982. His primary focus is Personal Injury and Workers Compensation.
Firm Information:
Deal & Deal, P.A.
122 Strode Circle
Post Office Box 1764
Clemson, SC 29633
Phone: (864)654-1669
Fax: (864)654-7078
Email: scdealp@bellsouth.net