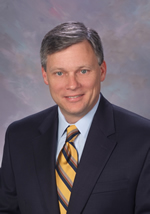 TIM MADDEN focuses his family law practice on complex financial matters involving complicated assets or income structures. Mr. Madden is a partner in the state-wide firm Nelson Mullins Riley & Scarborough, LLP. From the Greenville office he serves clients across the state. He is listed in The Best Lawyers in America (Woodward/White) and maintains the highest rating afforded to lawyers for legal ability and ethics by the publication Martindale-Hubbell .

Mr. Madden became a Fellow in the American Academy of Matrimonial Lawyers in 1998, and has completed the Academy's arbitration training. Throughout his legal career most of his professional time and energy has been in the area of family law. He taught family law in the paralegal program at Greenville Technical College, wrote the chapter on marital dissolution and child custody for the South Carolina Practice Manual (Howard/Moise ed. 2000), served on the editorial board for the treatise Marital Litigation in South Carolina (Stuckey), teaches at the orientation program for new family court judges, and speaks at various seminars sponsored by the South Carolina Bar and other organizations. In 1998, he received the Compleat Lawyer Award from the University of South Carolina School of Law for distinguished service to the legal profession and his community. For more than a decade lawyers in Greenville and Pickens Counties have repeatedly selected Mr. Madden to serve multiple terms in the House of Delegates, which is the governing body of the South Carolina Bar Association. Mr. Madden is also a Faculty Member, Family Law Trial Institute, Houston.
Outside his law practice Mr. Madden is actively engaged in public service at the local and state level. He has served as Chairman of the Greenville County Transportation Committtee and Vice Chairman of the South Carolina Transportation Infrastructure Bank. He currently serves as Chairman of the South Carolina Education Lottery Commission, and as member of the board of directors for the South Carolina Student Loan Corporation.
Mr. Madden received a B.A. in Finance from Wofford College in 1985 and a J.D. from the University of South Carolina in 1988. Mr. Madden, his wife Cami, and their children, Anna Britton and Amelia, are active members of Westminster Presbyterian Church. Mr. Madden serves on the Alumni Executive Council for Wofford College, and the community advisory board for The Palmetto Bank.
Firm Information:
Nelson Mullins Riley & Scarborough, LLP
South Carolina offices in: Columbia, Charleston, Greenville and Myrtle Beach
Other Offices: Atlanta, GA; Charlotte, Raleigh and Winston Salem, NC; Washington, DC; Boston, MA.; Huntington, WV & Tallahassee, FL
Greenville Office Information:
Poinsett Plaza, Suite 900
104 South Main Street, 9th floor
Greenville, South Carolina 29601
Phone: 864-250-2300 (Mr. Madden's extension is 2279)
Fax: 864-232-2925
Toll Free - 1-800-237-2000
Email: timmadden@nelsonmullins.com
Website: www.nelsonmullins.com
ISLN: 905260837