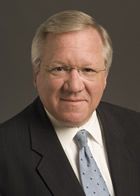 Lon Shull is a principal in the firm of Andrews and Shull, PC in Mount Pleasant, South Carolina, just across the Cooper River from Charleston. His practice is focused primarily on Family Court litigation and Alternative Dispute Resolution as well as Civil Litigation in the Court of Common Pleas. Shull began his practice in 1984 at the firm of Rosen, Rosen and Hagood where he joined that firm as a partner in 1989. In 1991 he and his partner, Mark Andrews, left to form Andrews and Shull. Since then they have established a busy trial practice in the Family Courts of Charleston, Dorchester, Berkeley, Colleton and Beaufort counties, as well as a statewide A.D.R. practice.
Shull is a member of the American Bar Association, the South Carolina Bar, the American Trial Lawyers Association, and the South Carolina Trial Lawyers Association. He is a member of the Charleston County Bar Association and has served on its Executive Committee and on its Fee Dispute Resolution Committee. He is certified as a Family Court Mediator and a Civil Court Arbitrator and is a Fellow in the American Academy of Matrimonial Lawyers. He has also served as Adjunct Faculty at the College of Charleston, taught Domestic Law in the paralegal program of Trident Technical College and has been a presenter in numerous Continuing Legal Education seminars.
Shull graduated from the University of South Carolina School of Music in 1981 and has continued an active avocation in choral and vocal music. He has appeared as baritone soloist with the Charleston Symphony Orchestra and is currently the conductor of the Charleston Men's Chorus. He, his wife, Lynn, and his daughter, Margaret, reside in Mount Pleasant.
Firm Information:
Shull & Stokes, LLC
755 Johnnie Dodds Boulevard
Mt. Pleasant, SC 29464

Phone: (843) 881-6585
Fax: (843) 654-7550
Email: info@shullandstokes.com
Website: http://www.shullandstokes.com